ALL ALUMNI -- To ensure you will receive important emails from the chapter, please keep your profile including your email address up-to-date with the National Association at
https://www.usna.com/sslpage.aspx?pid=308
.
PayPal Buttons
Adding PayPal buttons to your site to collect donations or buy whatever is easy.  But because the USNAAA Sites are multisite networks, WordPress has some limitations that will make you go through the steps a bit differently.
For security reasons, WordPress will not allow admins to insert HTML code directly onto your page.  The code will be stripped when you save changes.  So you will need to obtain the "Email Link" vice the, and upload an image for the button and then make the button your PayPal link.
First:  You will need to follow some very basic steps in the PayPal tools at https://www.paypal.com/buttons/.
Then The PayPal tool will create some HTML code for you.

The default will show you Website code to be placed on your page.  This code will NOT work in your site!. You will need to click on the "Email" tab and get the link provided there: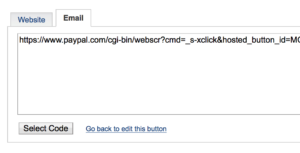 You will need to manually place the PayPal "Donate" graphic on your page (copy this one):

Then using your tool bar, make the PayPal graphic a link to Email link provided by the PayPal tools.
PayPal will save your buttons to your PayPal account so that you can go back and edit or copy them.
Recommendations:
In Step 1: When creating your donate button on the PayPal tools, you may have the option to use your merchant account number, then robots won't be able to mine your treasurer email account out of the code.
In Step 3: Customize advanced features (optional) of the PayPal button tool, you can enter the URL addresses to return donors to your "thank you" page on your site after their donation has been processed or return then to a page on your site if they cancel the PayPal transaction.